Ensuring Environmental Sustainability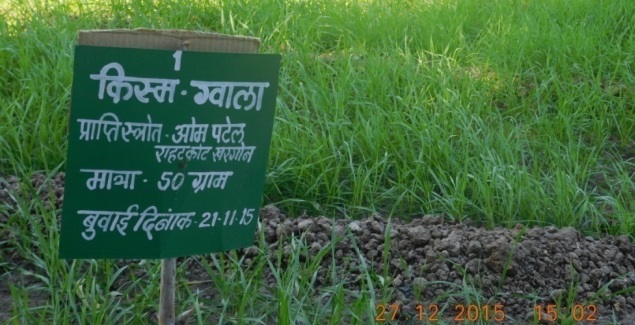 Organic farming with traditional seeds is a major constributor of environmental sustainability
Agriculture is major livelihood source for Bhils Adivasi residing in Jhabua District. Sampark runs a wider programme with them to make it sustainable and environment friendly. The objective materialise through promoting organic farming and usage of indigeous seeds. Organic farming and usage of indigenous seeds has promoted in 20 villages and almost 5,000 farmers joined the mission of protecitng of environment and adopting sustainable farming.
Through the period progressive farmers have prepared who are skilled in organic farming, preparing farms, choosing seeds, sowing crops, pest control systems, methods to prepare organic fertilizers and organic pesticides and seed production. They spread awareness among other farmers in their own villages as well as adjoining villages.
Farmers of three villages – Temariya, Dabdi and Petlawad – have formed a cooperative society for organic seed production. They have created a 21-member committee for finding the solutions and reducing the problems of organic seed production. Through this committee, farmers are being provided high quality soya bean and wheat seeds produced in a centralised location. Additionally, several farmers have entered into production of seeds of soya bean, cotton, turmeric and maize seeds.
Efforts are being made to raise awareness of the villagers in the project area about organic pesticides. During the campaign, organic pesticide was produced and spread over crops by farmers. Other methods of insect control adopted to minimise pest attack at minimum cost include installation of Pheromone traps and use of yellow plates.
Demonstration pit for vermi-compost has been constructed in Sampark compound. This pit produces vermi-compost at a large scale in which 90 bags of 50 kg are produced every three months and then marketed. This is being used by farmers who are cultivating vegetables or flowers. In villages of the project area, organic nitrogen is being prepared to compensate for the use of urea in the crop of wheat in rabi season.
Farmers are being taken on educational tours to enable them learn by seeing. Kisan sammelans (farmers' congregations) are organised at various levels to increase farmers' learning. Processing and marketing support is being provided to farmers cultivating turmeric.
A study was conducted on the availability of traditional seeds and their use pattern in villages Temariya and Dunglapani of Rama and Petlawad block in the project area. The study revealed that seeds of kodara, kangani, sama, gujara, rala, bhadali and other coarse grains were safe but those of bawata were near extinction. Seed mapping was conducted with villagers in nine villages in which information was collected about indigenous seeds being used for sowing in the area in both the seasons and samples were collected.
Sampark is the coordinating agency for National Biodiversity Campaign in Madhya Pradesh and is conducting it in the three districts: Jhabua, Satna and Dindori. The campaign seeks to conserve and promote the traditional varieties of seeds. Madhya Pradesh has a rich agricultural diversity and there are thousands of varieties of seeds suited to local conditions. However, due to the neglect of the Government and the push by multinational corporations for mono-cultures of hybrid and genetically modified seeds, the traditional varieties are disappearing very fast. Therefore, a combination strategy of actual cultivation of these seeds by farmers and an advocacy campaign to popularise them widely and put pressure on the Government to support them in their work has been adopted.