Campaign on Freedom from Debt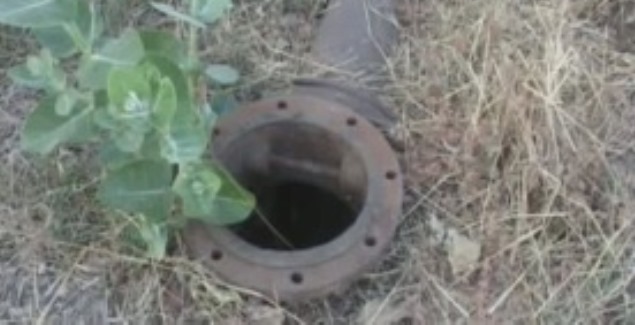 A dry borewell in Sampark's operational area. Such borewells have been major cause of indebtedness of villagers
Thousands of tribal farmers in Sampark's operational area have been 'shown' under institutional loans. They repeatedly get notices from banks and also threats in case they are not able to pay off loans.
Most of these loans were 'given' under the Lift Irrigation Scheme. During a study, Sampark interviewed 1,700 farmers 'benefited' under Lift Irrigation Scheme and it was found that loans were thrust on these farmers for water pumps and accessories. In several instances, loans were shown against the farmers even when they did not purchase the motor. In several villages there is no electricity, but the villagers have loans for purchasing electric water pump.
Water did not reach fields of several farmers, but they were given PVC pipes and motor and loans were entered against their names. In many cases, even pipe pieces did not reach fields. Thus, thousands of farmers in the block were trapped in debt.
On the other hand, there are several instances in which father took loan and now their sons are getting notices for paying loans. Even after paying back Rs 20,000-30,000 for a principal loan amount of Rs 10,000, banks are showing outstanding of Rs 30,000-40,000. Several tribals never saw a bank, but banks made them debtor to the tune of Rs 90,000. A few cases were reported in which during visit to the paternal homes photographs of married girls were clicked and loans were shown against them.
When the organisation confronted bank officials with the study findings, they said they had followed the process fully. The reality, however, is that suppliers met all the formalities, supplied second grade material, or did not supply it at all, got the bills passed and received payments directly.
Sampark then put the data before Gram Sabhas concerned and organised demonstrations and sit-ins at block, district and capital. The agitationists met the Governor and requested him to grant permission of mass suicide. They also met the Chief Minister and apprised him of the facts. A week later he visited and constituted a committee for detailed inquiry. This committee stayed loan recovery till the inquiry was completed.
Watch Video: Jeeti Jung Jindagi Ki
Read Documents: Kitni Ret Kitna Pani and Unjust-Debt Waiver Struggle